I've been a fan of Sydney from
The Daybook
for some time now and one of my favorite things to read are her awkward and awesome Thursday posts...usually I just read them and laugh...but today I'm going to take part in it! So here goes...read below for my awkard and awesomeness!
outfit:
Vintage blouse- from my mom's closet; Skirt- handmade by me; Shoes- Steve Madden;
Belt- Anthropologie; Bag- Thrifted; Bracelet- my mom's; Necklace- Forever 21; Sunglasses- PacSun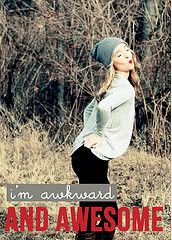 Awkward:
- My hubby and I trying to save money by cooking and eating in more. So we decided we wanted to eat burgers and took a trip to the grocery store. Only we spent $20 bucks on ingredients to make 2 burgers. We could have just gone to In-and-Out for cheaper (and faster...and tastier?) burgers. They were yummy though.
- Getting asked three times by different people at work if I was pregnant only because I was wearing a flowy blouse.
- Having my sewing teacher show the class an example of my skirt and how it should be done. Then her realizing I made a mistake in a step and having to rip those stitches out and start over.
- Sitting in a waiting room at the Drs. office next to a couple that was arguing. I just kept my head down pretending to read my kindle but really I was listening to their points and silently siding with the guy's point of view. I couldn't help it.
- Going into the tattoo parlor to ask for a tattoo the size of a nickel and getting told that it would look awful. The
awesome
thing was getting a super cool sketch of the tattoo done by the guy (he said it has to be at least the size of a quarter to show the details).
Awesome:
- Meeting photographer and designer
Kristine Ko
for plans about an upcoming photoshoot- I can't wait! More to come later. Eek!
- Discovering
The Dog Haus
in Pasadena that makes really yummy hot doggies.
- Surfing with my surf buddies again- it's been a few years since we got together but we made a summer goal to surf lots and lots together these next few months (we've been surf buddies since 1998!)
- Having our Love Story featured on
Ruche's blog
- so cool!
- Discovering a new
Macarons store
in my neighborhood!
- Getting my yearly eye exam done by my best friend
Sharon
- she's the best optometrist there is!
So there you have it! We are all totally awkward and awesome in our own way and it's great! Lastly, it's my Friday today! We'll be flying to Seattle for a friend's wedding and I can't wait.
I just really love weddings. Alot.